The Taylor Swift Song You Are, Based On Your Zodiac Sign
Chances are, you've heard of Taylor Swift and more importantly, you've related to a Taylor Swift lyric or two. Swift's songwriting has the magical ability to transport listeners to pivotal times in their lives, maybe when they were madly in love, or perhaps when they got dumped for the first time. Since 2006, when she released her debut album, Taylor Swift, to her studio album drop, Midnights, just last month, Swift, a Sagittarius herself, has worn her heart on her sleeve song after song.
To uncover her lyrics and music further, we decided to ask expert astrologers to match each zodiac sign to an iconic Taylor Swift song. Keep reading to find out if you're more of a fearless fighter, an anti hero, or something in-between.
BreAnna Kusko, an expert astrologer and psychic medium tells Best Life that "Tim McGraw" fits perfectly with Aries. "Aries is the first sign of the zodiac and has as much to prove in their lives as Taylor did when she released her first single, 'Tim McGraw,'" she says.
The song, of course, isn't about Tim McGraw at all, but Swift uses his name as part of a long list of things she knows her ex-boyfriend will remember her by. "When you think Tim McGraw/ I hope you think my favorite song / The one we danced to all night long / The moon like a spotlight on the lake," she sings.
Aries are known for their confidence, boldness, and sheer determination, so it makes sense that this single is the perfect song for this fierce sign. "An Aries is a natural leader and the first person to make a jump and risk it all for the chance of success," says Kusko. "Naming a song after a successful country star was a move only Taylor Swift could pull off."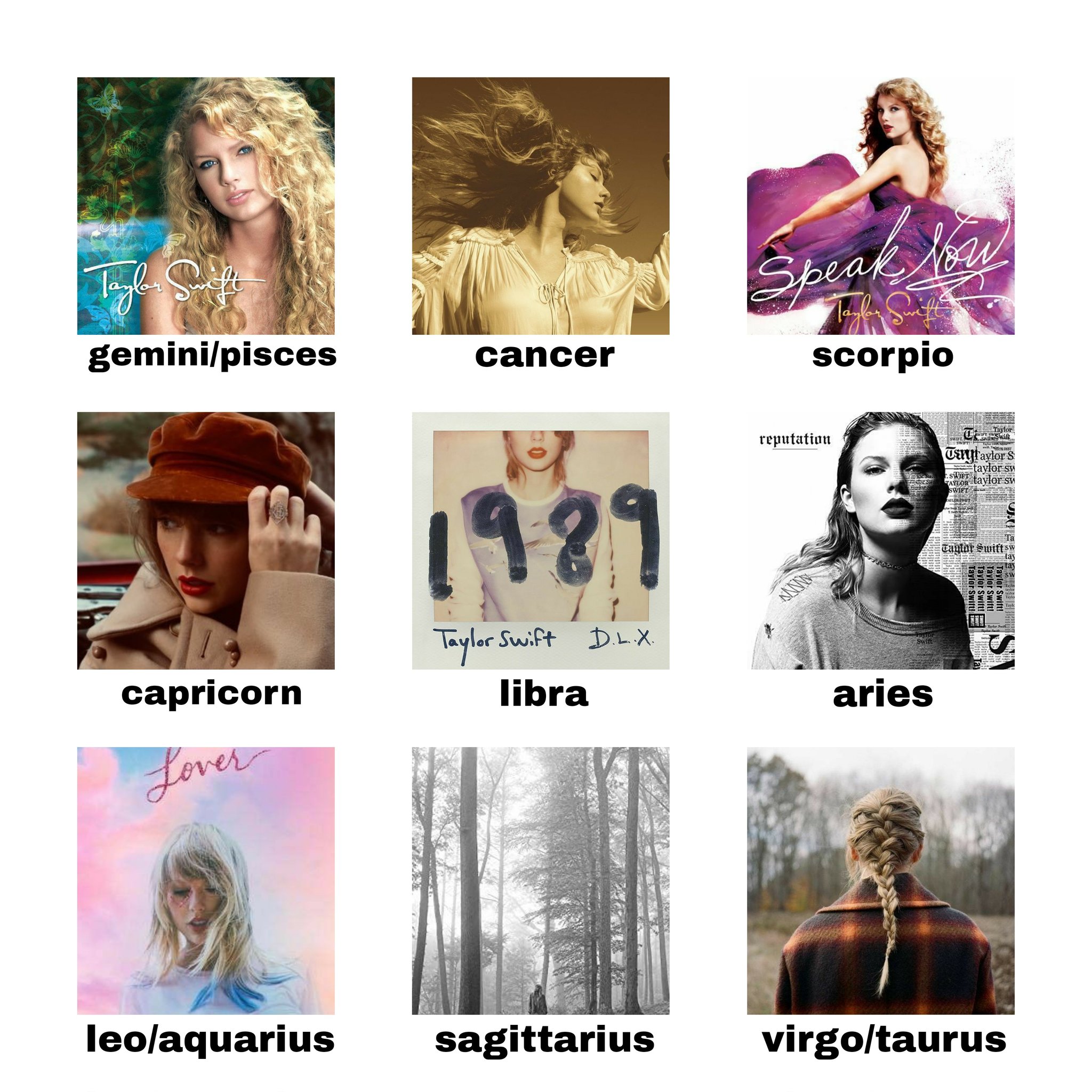 Taurus: "Enchanted"
Karen Comen, an astrologer and health and wellness coach at Zodiacsign.com, says that the true embodiment of Taurus pairs well with Swift's romantic and stunning Speak Now hit, "Enchanted."
Taurus signs are hopeless romantics who are always in search of the great love of their lives. The lyrics in "Enchanted" encompass this beautifully with the bold lines, "This is me praying that this was the very first page / Not where the storyline ends / My thoughts will echo your name until I see you again."
"This graceful song captures the essence of a Taurus in love," says Comen. "'Enchanted' starts as a slow, melodious guitar-driven ballad, and as it continues, it incorporates more instruments, ultimately ending with Taylor Swift's iconic high notes. Every bull can feel the sensuality of this song. When in love, a Taurus will give up its life of ease and home to go to war for their person. They put their eggs in one basket."
Gemini: "You Belong With Me (Taylor's Version)"
"You Belong With Me" is the perfect parallel to a Gemini's personality and lifestyle, says Oberon Copeland, the founder of the lifestyle website, veryinformed.
"Outgoing and adaptable, Geminis are known for their social nature and love of communication," he says. "What better way to express those Gemini traits than with a classic feel-good pop song about unrequited love?"
In "You Belong With Me," Swift playfully sings about being in the bleachers in high school while her crush hooks up with someone more popular. " She wears high heels /I wear sneakers /she's Cheer Captain /And I'm on the bleachers / Dreaming about the day when you wake up and find that what you're looking for has been here the whole time."
As an outgoing sign who loves a party, Copeland says "the relatable lyrics and catchy melody make this tune a karaoke staple—and one that any Gemini is sure to enjoy belting out!"
Cancer: "Maroon"
Comen says Cancer signs are incredibly nostalgic and wistful, just like the lyrics and sounds from "Maroon." In the song off Midnights, Swift reminisces on a lost lover, "And I lost you /The one I was dancin' with / In New York, no shoes / Looked up at the sky and it was maroon."
"The emotional crab is always feeling nostalgic about their past love, ignoring the red flags, and hyper-focusing on the tender moments of the relationship," says Comen. "For Cancers, this can be a painful reminder of the one who got away. But the water sign loves to mourn and mourns to love. Each lyric truly embodies a living, breathing Cancer and gives us a peek into their nostalgic mind."
Leo: "Fearless (Taylor's Version)"
In Swift's hit "Fearless," she explores what it feels like to jump head first into a new love, singing "And I don't know why / But with you I'd dance in a storm / In my best dress / Fearless."
Maggie Wilson, a psychic medium and astrologer thinks this is the perfect song for attention-seeking Leo. "Leos are the summertime warmth and 'middle of the parking lot dancers.' Ruled by the heart, these fearless personalities are very big and are in charge of their own world," she says. "Leos want to be seen as unbreakable but what they really want is for their person to show them love and to help them be more vulnerable."
Virgo: "Anti-Hero"
"Anti-Hero" is Swift's first single from her latest record, Midnights and is about insecurities and anxieties that we can all relate to (famous or not).
In this haunting new single, Swift sings lyricsa Virgo may be able to relate to: "I have this thing where I get older but just never wiser / Midnights become my afternoons / When my depression works the graveyard shift / All of the people I've ghosted stand there in the room."
"Virgos are their own worst critic and perfectly embody the protagonist's perspective of the song," says Kusko. "Virgos are also some of the best people who need to give themselves more grace. They're not the problem. They're often the solution."
Libra: "Love Story (Taylor's Version)"
Libras deeply crave love and when they find it, they will cherish it and hold onto that person as tightly as they can. That's why Kusko paired the 2009 Swift classic "Love Story" with the this air sign.
"A Libra loves love and is the other sign ruled by Venus, the planet of love," she says. "A Libra is 'Love Story' because they're the sign most consumed by the other person's perspectives. Libras love a good love story and always wish to be Romeo or Juliet in their own."
Scorpio: "Betty
"Betty," Swift's popular country-like track on 2020's Folklore, is a story of young love that goes awry after summer has gone. Wilson immediately saw Scorpio's energy in the lyrics. "Fear of vulnerability? Yep! Big betrayal energy? Yup. Scorpios know this all too well."
In the song, Swift sings about a love triangle where the main character, James, is having second thoughts about his summer fling and eventually finds his way back to his one true love, Betty. The lyrics in the final chorus ("Yeah, I showed up at your party / Will you have me? / Will you love me? / Will you kiss me on the porch / In front of all your stupid friends? / If you kiss me, will it be just like I dreamed it? / Will it patch your broken wings?") embody what it feels like to be a Scorpio in the pursuit of love.
"Scorpios want to be with someone who expands their boundaries and won't just be a summer fling," says Wilson. "A Scorpio will pursue their love like they would pursue revenge, and there is nothing they do better."
Sagittarius: "Lover"
"Lover" is a classic swift song, describing a precious loving relationship that she wants to hold onto forever. Her vocals are light and warm, making even the most pessimistic person likely to sway along. Wilson writes that there's "nothing a Sag loves more than being loved."
In "Lover," Taylor calls out to her long-term boyfriend with sweet lyrics like, "Ladies and gentlemen, will you please stand? / With every guitar string scar on my hand / I take this magnetic force of a man to be my lover / My heart's been borrowed and yours has been blue / All's well that ends well to end up with you."
"Sags fall into easy flows where they make the rules and they fall in love quickly," says Wilson. "They are great risk assessors, and they know the prize is bigger than the risk and will stand firm besides their lover. Lover is a symphony just like Sagittarius."
Capricorn: "The Man"
Capricorns are famously persistent overachievers and unapologetically fired up to speak out about what they believe in. This is exactly what Taylor does in her feminist anthem, "The Man" from her 2019 album, Lover.
Calling out societal sexism like a passionate Capricorn, Swift sings "I'm so sick of running as fast as I can / Wondering if I'd get there quicker / If I was a man / And I'm so sick of them coming at me again / 'Cause if I was a man / Then I'd be the man."
"'The Man' is written from the perspective of Taylor imagining how much easier her life would be if she were a man," says Kusko. "This song perfectly encapsulates Capricorns because Caps can be complex, cool, and many of the other things Taylor sings about simultaneously. Capricorns don't worry about being perceived as rude; they're worried about getting their job done on time."
Aquarius: "Wonderland"
It's easy to look back on a relationship and focus on the things that went wrong. Swift sings about this in "Wonderland," a bonus track on the coveted 1989 record, that matches quite well with the Aquarius sign. Aquarians are unapologetic no matter what trouble they get into and also love incredibly hard. This star sign knows when they were in an unhealthy relationships, but can't help but think about what could have been.
"Being one of the smartest signs in existence, you would expect an Aquarius to make thoughtful decisions about their partner and relationship," says Comen. "But since they like to defy the crowd, the song that best describes this water bearer zodiac is 'Wonderland." Once in love, an Aquarius will slowly give themselves up, even falling in love with their partners' red flags."
"In the song, Swift recalls a romance that was doomed for demise, even comparing it to tumbling into Lewis Carroll's Wonderland," she adds. The story sees Alice, the titular character, as a complete misfit in this new world but still desperately trying to make it work."
Pisces: "All Too Well (10 Minute Version)"
Kusko tied the emotional Pisces sign to the fan favorite, "All Too Well (10 Minute Version)." She tells Best Life, "People often believe that Cancers are the most emotional signs of the zodiac. Still, those people have never met a Pisces."
In "All Too Well" Taylor aches over a former lover with the heartbreaking lyrics, "Time won't fly, it's like I'm paralyzed by it / I'd like to be my old self again / But I'm still trying to find it."
"Pisces are dreamy, ethereal beings who are often reminiscing over the past or dreaming about the future," explains Kusko. "'All Too Well' is an incredible story that weaves through the past, present, and future in emotional explosions. One second, Swift sings that she's crying; the next, she's calling out the muse of this song for always dating younger women. It's a classic Pisces lashing out, healing, and getting their power back."